R. Alan Butler
Chief Executive Officer
R. Alan Butler is chief executive officer (CEO) of Erickson Living, a national leader in developing and managing continuing care retirement communities. Erickson Living is headquartered in Baltimore, Maryland, and manages 19 campus-style communities in Colorado, Florida, Kansas, Maryland, Massachusetts, Michigan, New Jersey, North Carolina, Pennsylvania, Texas, and Virginia. The company's communities are home to more than 25,000 residents and employ more than 15,000 people who share a commitment to service.
Prior to becoming CEO with Erickson Living in 2010, Alan spent 14 years as treasurer of Allegis Group, Inc., the largest provider of staffing in the United States with 10,000 employees and revenues of over $10 billion. As treasurer, he was responsible for all debt placements, syndicated credit facilities, and cash management activities. In addition to his role as treasurer, he managed corporate real estate, purchasing, travel, credit, and accounts payable and advised on all mergers and acquisitions. Alan also served as president of Redwood Capital Investments, an investment company with assets in excess of $1 billion, which focused on investing in privately held companies, real estate, and special opportunities.
Alan's diverse leadership career includes holding various credit and lending positions at Bank of America and its predecessor banks from 1986 to 1996. In addition, he has served on numerous boards, including the board of Redwood Capital's portfolio companies and the executive board of the University of Maryland Medical Systems.
Alan holds a bachelor's degree in finance from the University of Maryland, College Park, and a master of business administration degree from Loyola University in Maryland. He lives outside of Baltimore with his wife and three daughters.
Debra B. Doyle
Chief Operating Officer
Debra Doyle is the chief operating officer of Erickson Living. In this capacity, Deb oversees all of Erickson Living's community operations as well as health care sales, information technology, operational programming, health and wellness services, Erickson Health Medical Group, Erickson Advantage® insurance, human resources, employee health and wellness, risk management, legal services, and facilities management.
Reporting directly to the chief executive officer, Deb is deeply involved with all aspects of the business and works with the CEO to develop and implement strategic plans for the company. Her current roles and responsibilities include delivering high-quality services to more than 25,000 residents with the support of 15,000 employees, who deliver through the Erickson Way Values the core programs and services that comprise the Erickson Living lifestyle.
Prior to Deb's promotion to COO in September 2012, she served as the executive vice president for health and operations for Erickson Living. She has also served as the senior vice president of operations, associate executive director, and senior regional health services director. Before joining Erickson Living, she was the chief nursing officer and executive director for medical services for the Greater Baltimore Medical Center.
Deb earned an M.B.A. and B.S. from the Sellinger School of Business at Loyola College. She received her R.N. degree from St. Joseph's School of Nursing and a certification in senior living care from Johns Hopkins University.
Gregg Colon
Senior Vice President, Health Services
Gregg Colon is the senior vice president of health services at Erickson Living. In this executive capacity, Gregg oversees all of Erickson Living's continuing care operations, resident life programs, and the company's ancillary health care lines of business.
Prior to joining Erickson Living in January 2012, Gregg was senior vice president, resident care and services for Sunrise Senior Living. In that role, he was responsible for care-related programming and standards for more than 300 senior living communities in the United States, Canada, and the United Kingdom. Gregg's background also includes financial and operational leadership roles at Marriott Senior Living, as well as health care operational consulting. He is a certified public accountant and holds a bachelor of science degree in accounting from Georgetown University.
Joseph Machicote
Senior Vice President, Human Resources
Joe Machicote is the senior vice president, human resources. In this executive role, Joe is responsible for all aspects of human resources throughout the enterprise, which include leadership and employee development, succession planning, employee relations, talent acquisition, personnel policies, and compensation and benefits.
Prior to joining the Erickson Living team, Joe was the vice president of human resources and organizational development at Snyder's-Lance, a leading manufacturer of snack foods based in Charlotte, North Carolina. In that role, he was responsible for leading the company's diverse human resources functions, as well as developing an organizational culture that emphasized character, capability, and diversity.
He has vast experience working in human resources and has held several leadership and hospitality roles throughout his career. Additionally, Joe served in several leadership positions with the Compass Group North America—a leading foodservice management and support services company. His roles included chief diversity officer, vice president of corporate human resources, division director of human resources, and director of training and development.
Joe holds a bachelor of arts in business from Manhattanville College.
Todd A. Matthiesen
Chief Financial Officer
Todd Matthiesen is responsible for directing the fiscal functions of Erickson Living in accordance with generally accepted accounting principles.
He plans, develops, implements, and directs the organization's fiscal function and performance; participates in the development of the company's strategic plans and programs; evaluates and advises on long-range plans; and provides financial and trending analysis in order to assist the president and CEO, the managed communities' boards, and other senior executives in the performance of their responsibilities.
Todd served previously as vice president of finance for Erickson Living, where his responsibilities included managing and leading several corporate departments and driving the budget and audit process as well as managing the day-to-day financial operations.
Prior to Erickson Living, Todd was vice president of operations for TEKsystems, Inc. He was responsible for the financial and operational performance of the global services division, which provided applications and infrastructure services in the US, Canada, Europe, and India to a broad spectrum of industries. Todd was also responsible for the acquisition and integration of several multinational companies. Before his 12-year association with TEKsystems, Todd worked for Waste Management Inc. in various financial positions, including mergers, acquisitions, and operations.
Todd graduated from High Point College as a Presidential Scholar in 1991 with a degree in accounting, business administration, and economics.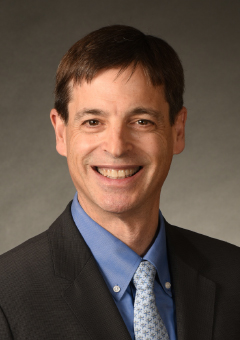 Matthew Narrett, M.D.
Chief Medical Officer
Matt Narrett, M.D. is the chief medical officer for Erickson Living. He is responsible for directing the provision of medical care and Erickson Living's unique health plan, Erickson Advantage®, at all Erickson Living communities nationwide. The medical centers that Matt directs are recognized as being among America's leading geriatric health care facilities.
Prior to his current position at Erickson Living, Matt served as vice president and regional medical director and medical director for the Charlestown community. Before joining Erickson Living, he was in private practice in Derry, N.H., where he also served as director of medical quality assurance at Parkland Medical Center. He has extensive experience in adult and geriatric medicine, having seen and treated thousands of seniors throughout his 25-year career. Matt graduated summa cum laude from Yale University with a B.S. degree in molecular biochemistry and biophysics. He received his medical degree from Harvard Medical School's Harvard-M.I.T. Division of Health Sciences and Technology. He completed his internship and residency at Beth Israel Hospital in Boston. He is board-certified in internal medicine and holds a certificate of added qualifications in geriatric medicine.
Matt currently serves on the Clinical Practice and Models of Care Committee for the American Geriatrics Society and the Advisory Board of the Practice Change Fellows Program supported by the Atlantic Philanthropies and the John A. Hartford Foundation. He is also a member of the American College of Physicians and the American Geriatrics Society.
He has spoken frequently on issues affecting seniors in a number of settings including conferences, media events, health leadership summits, and congressional forums.
Tom Neubauer
Executive Vice President, Sales, Marketing, and Communications
Tom Neubauer serves as Erickson Living's executive vice president of sales, marketing, and communications. He oversees the internal marketing and communications department, including the creative services team, marketing strategy and planning, internal communications, and public affairs. In addition, he oversees all sales activities throughout the country, including the leadership and direction of the field's sales teams, development and implementation of sales strategies and tactics, training and development for all sales office team members, and consistent tracking of all sales results.
Prior to joining Erickson Living, Tom spent the first 14 years of his career at Xerox Corporation. During his time with Xerox, Tom held various sales management and product specialist roles in the Baltimore-Washington marketplace.
Tom graduated from Bucknell University with a degree in business and marketing.
Susan Oliveri
General Counsel
Susan Oliveri is the general counsel at Erickson Living. In this role, she is responsible for oversight of all legal functions, including acquisitions, construction, development, finance, information technology, health care, employment, and operations.
Susan has over twenty years of experience as a real estate, construction, development, and finance attorney. Prior to joining Erickson Living, Susan was a corporate and real estate attorney at Miles & Stockbridge, a regional law firm in Maryland. She also served as a law clerk for the Honorable Lawrence Rodowsky at the Court of Appeals of Maryland.
Susan earned a J.D. from the University of Baltimore and a B.B.A. in finance and marketing from the University of Texas at Austin.
Sean Sands
Executive Vice President, Business Strategy and Development
Sean Sands is executive vice president of business strategy and development for Erickson Living. In this role, he oversees all aspects of strategic planning and business development that support company growth objectives and business opportunities. These responsibilities include land acquisition and development, design and construction of new and developing senior living communities, and market research and financial planning and analysis functions that support strategic growth and product development.
Before joining Erickson Living, Sean was regional vice president and head of the Maryland corporate banking division of Wells Fargo, where he was responsible for the leadership, profitability, growth, and risk management of corporate banking business in the region. Sean has vast experience in banking, strategic advisory, and corporate finance.
Sean has been actively involved in a number of business and community organizations throughout his career. He is a past board member of the Economic Alliance of Greater Baltimore, the Living Classrooms Foundation, and the Independent College Fund of Maryland.
Sean holds a bachelor of business administration in business economics and a master of business administration degree from the Sellinger School of Business at Loyola University in Maryland.
Rick Slosson
Senior Vice President, Development
Rick Slosson is senior vice president, development. He directs strategic growth, including development of continuing care facilities, building out of developing communities as demand warrants, development of new communities, and redevelopment of any properties the company may acquire.
Rick has more than three decades of expertise in the construction, development, and land-use industries, including experience as executive vice president for assisted living company Sunrise Development.
Most recently, as owner of Turtle Creek Development, he served as development consultant/partner on many projects, including senior living facilities, office buildings, housing, mixed-use, and retail. Prior to Turtle Creek, Rick was executive director of the Maryland Stadium Authority.
Rick received his B.S. in civil engineering from the University of Virginia. He is a past board member of the Cystic Fibrosis Foundation of Maryland and the Special Olympics of Maryland.