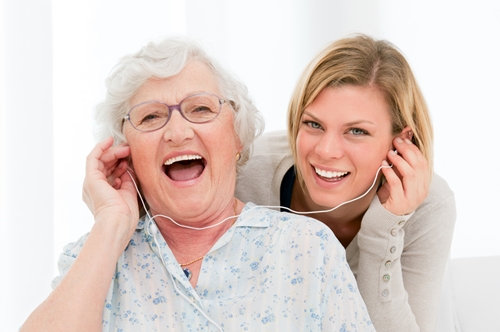 Music therapy: How can it help you and where to find it online
Music can have a powerful impact on people of all ages. Rhythms and lyrics connect with people in a way that television and other sources of entertainment often cannot. Many Alzheimer's patients even use it as effective therapy to help improve memory and manage stress. In fact, according to the Alzheimer's Association of America, older adults frequently have an easier time recalling a melody than they do trying to remember names or events. How else does music impact people?
The benefits of music You may simply listen to music for pleasure. But did you know that the leisurely time you spend enjoying your favorite songs may actually be lowering your blood pressure and enhancing your mental state?
There have been studies that show music has the potential to improve factors that contribute to healthy aging, such as heart health. One such study was published in the Journal of the American Heart Association and showed that listening to music sped up the recovery time for patients who experienced heart disease.
Listening to music has the potential to encourage positivity.
According to Harvard Health Publications, research by Massachusetts General Hospital showed that patients confined to their beds who listened to music for 30 minutes a day experienced less distress, slower heart rates and lower blood pressure compared to the patients who didn't.
Many studies have also suggested that music can enhance sleep quality, especially for those dealing with conditions like insomnia. One way that it improves sleep is through its ability to ease anxiety and reduce symptoms of depression, which are often responsible for preventing a good night's rest.
Where can you find music? You don't need an iPod to hear music when and where you want to. Everything from live tunes to radio stations that play only your favorite hits are waiting for you online. Here's where to find them:
"Everything from live tunes to radio stations are available online."
1. Pandora Pandora can be accessed from your computer or smartphone through the Pandora app. Register for a free account (you don't have to give much information) and then enter an artist or song you like in the top right-hand box on your screen. In addition to playing songs by your artist of choice, Pandora will also play tunes by artists with similar musical styles. For example, if you choose Nat King Cole, the station may play a few Patti Page and Frank Sinatra songs as well. You'll also find lyrics to each tune and information about the artists.
2. NPR Music Are you more of a live music fan? NPR hosts live musical performances, including a piano jazz program. On NPR Music, you can sift through sessions with popular artists like Bill Frisell and Martha Wainwright. NPR also offers an app that features more than 5,000 live sessions, interviews and reviews.
3. Spotify Perhaps one of the most popular online music sites and phone apps is Spotify, a website where you can listen to almost any artist, album or song you've ever heard. Unlike Pandora, you can enjoy individual artists in addition to stations that play similar musicians. Try creating your own playlist by clicking the addition symbol next to each song, which will add that tune to the "Your Music" section.