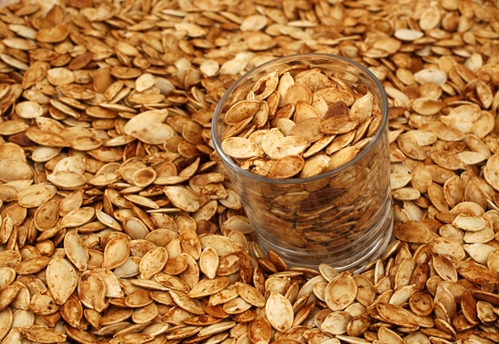 7 yummy ways to enjoy pumpkin seeds
Pumpkins are everywhere this time of year, from grinning jack-o-lanterns to spiced lattes, yet the orange gourd's seeds are often overlooked. That's a shame, because pumpkin seeds are nutritional powerhouses that can be a delicious addition to your diet.
Pumpkin seeds contain zinc, a trace mineral that's key for keeping your kidney, prostate, liver and blood cells healthy. And pumpkin seeds are a good source of omega-3 fatty acids, which help ensure normal brain function and may reduce the risk of dementia, cancer and heart disease.
So this fall, whether you're carving or eating a pumpkin, don't forget to feast on the seeds. That doesn't mean you need to limit yourself to the standard roasted, salted version, though. Here are seven surprising ways to eat these flavorful, nutritional seeds:
1. Pumpkin seed pesto Give your traditional pesto recipe a twist by swapping the usual pine nuts for pumpkin seeds. If basil is getting harder to find at the grocery store or getting pricey this time of year, you can also reach for fragrant cilantro instead. The result is a nutty, intense flavor in a spread that goes great on pasta, fish or chicken.
2. Peanut and pumpkin butter If you haven't tried making your own nut butter from scratch, now is the time to give it a whirl. Making any nut butter is as simple as putting the lightly roasted nuts in a food processor, and waiting for them to grind into a smooth or semi-smooth paste. Add a handful of roasted pumpkin seeds to the peanuts in your food processor, and you'll have a seasonal nut spread that tastes great on toast. You can amp up the autumnal flavor even more by adding a pinch of cinnamon or nutmeg.
3. Fro-yo topping Sure, frozen yogurt isn't the first thing that springs to mind when you think of healthy eating, but a modest scoop of sweet dessert gets a big health bump when you top it with a handful of roasted pumpkin seeds. Use lightly salted seeds for that classic sweet-salty combo that's reminiscent of salted caramel.
4. Soup garnish This season is practically synonymous with hearty stews and chili, and the soup bowl is a unexpected way to use pumpkin seeds. Much like croutons give creamy soups, like cream of mushroom or cheddar broccoli, a bit of welcome crunch, seeds can do the same for fall soups. For one fantastic pairing, try topping a sweet potato and black bean chili with a handful of roasted pumpkin seeds.
Pumpkin seeds are a scrumptious and seasonal granola addition.
5. Autumn granola Odds are your favorite homemade granola recipe is a wonderfully flexible mix of oats, seeds and nuts. Add pumpkin seeds to the mix for an easy health boost that's also deeply flavorful. Mix in a dash of nutmeg and cinnamon and replace the usual raisins for dried cranberries, and you'll have a granola that tastes like autumn in a bowl.
6. Pumpkin seed brittle Peanut brittle fans rejoice this time of year, as the weather drops and candy thermometers get put to good use. For a surprise twist this year, consider swapping in pumpkin seeds instead. They offer a similar crunch to the traditional peanut, but have a deeper, more distinct flavor. Pumpkin seed brittle can also make a great Halloween gift, if you exchange treats with your loved ones for the holiday.
7. Spiced Seeds Yes, you can use pumpkin seeds in everything from brittle to granola, soup to fro-yo. But there's something incredibly satisfying about just eating them by the handful. You could opt for simple salt as a flavoring when roasting, or creative home cooks might want to try a more gourmet take, such as chili and lime, garlic and parmesan, or honey and Sriracha. Though the seeds have a distinct taste, they're well-paired with almost any combination of spices and oils, so let your imagination go wild. Your tastebuds will thank you.