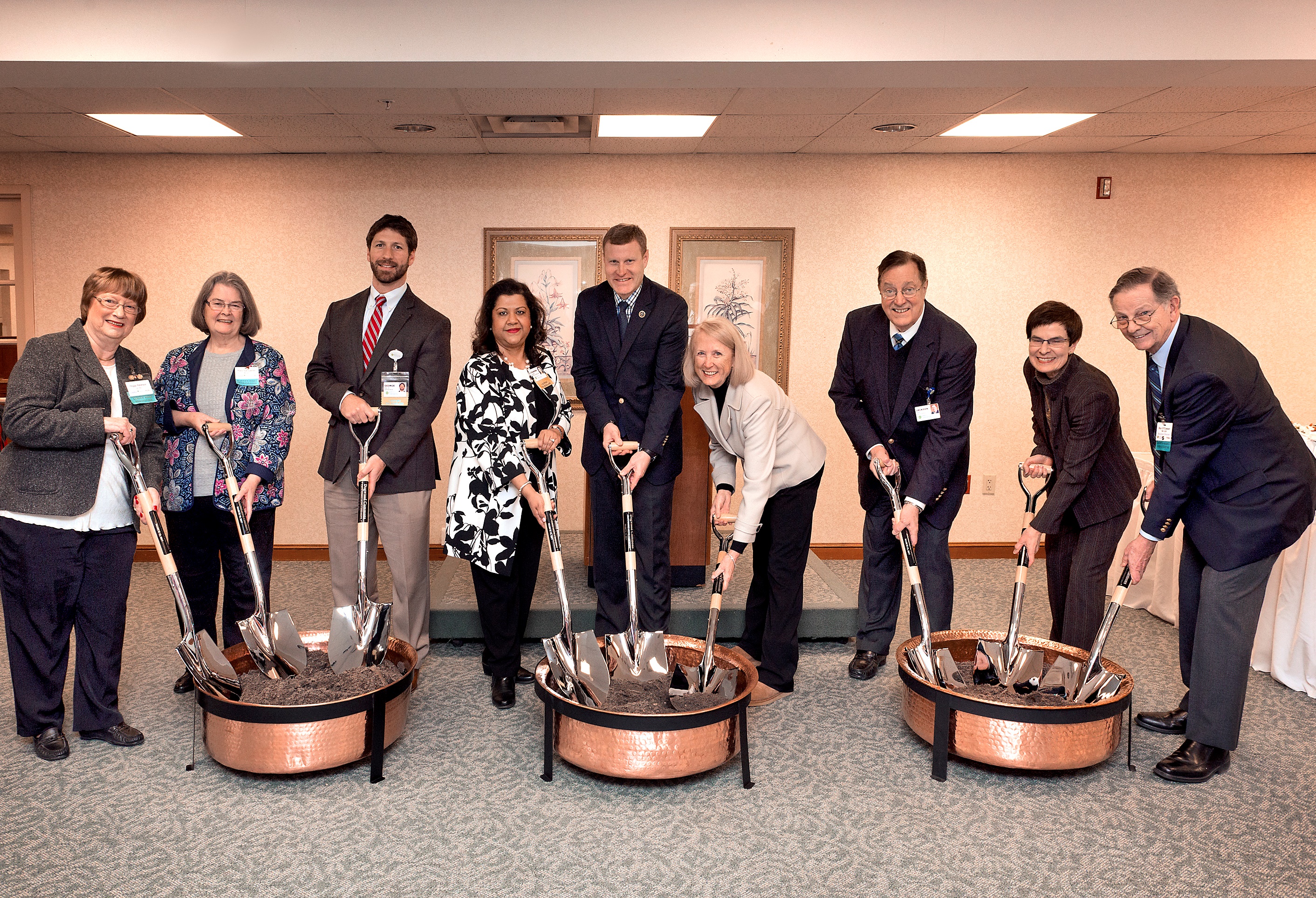 Greenspring Launches Construction of New $27.5 Million Continuing Care Building to Expand Person-Centered Care Opportunities in Northern Virginia
Springfield's Premier Continuing Care Retirement Community Expands Health Care Options
SPRINGFIELD, VA (March 16, 2017) – Greenspring, a senior living community in Northern Virginia developed and managed by Erickson Living, hosted government, business and company leaders March 15 at a groundbreaking ceremony for the construction of Dogwood Commons, a $27.5 million, four-story, 77,500-square-foot assisted living and memory care building.
Participating in the groundbreaking were Peggy Paterson, Greenspring Resident Council Design Committee; Mary Sue Garner, Greenspring Resident Council President; George Rallis, Greenspring Director of Continuing Care; Chandra Kumar, Greenspring Executive Director; Jeff McKay, Fairfax County Supervisor, Lee District; Vivian Watts, Virginia House of Delegates; and Greenspring Board of Directors Jackson Bain, Betty Price, and Roy O'Connor.
Starting the development of Dogwood Commons indicates that Greenspring is moving ahead with its multi-phase, multi-year plan to expand and renovate its existing assisted living, memory care and nursing care residences, along with amenity spaces. Construction of the new, state-of-the-art continuing care building will optimize the daily living experiences of residents; it is expected to take 13–15 months, with reservations starting to be accepted in the spring 2018.
Dogwood Commons will feature a total of 59 assisted living apartment homes and 30 memory care suites. Assisted living apartment homes will vary in size from studio to one-bedroom layout options. Living spaces will feature a full, private bath and a kitchenette. Some apartment homes will have private, screened porches. Well-designed memory care residences will meet the specialized needs of residents by providing a stimulating, nurturing and amenity-rich environment. Suites will feature private bedrooms and full baths, and be located in close proximity to a dining area. Common areas in this new building will be available for use by all continuing care residents. They will include multi-purpose, activity and programming spaces, living rooms, conference rooms, a billiards and games lounge, a library and a card game room.
The community's modernization strategy also includes having each floor of the existing continuing care residential buildings receive updated dining, programming and living room areas. Renovations in the adjacent continuing care neighborhood clubhouse will include establishing a grab-and-go bistro area, salon and fitness room. The reconfiguration of the common areas maximizes the delivery of person-centered care and encourages resident engagement and independence.
"This much anticipated project allows us to offer an increased array of person-centered services that helps those we serve achieve optimum health during the normal aging process," said Greenspring Executive Director Chandra Kumar. "Our personalized care plans, holistic perspective, fabulous caregivers and comfortable accommodations reflect a level of individualized service and care that is truly distinct in the Northern Virginia marketplace."
Greenspring's standard of excellence for the provision of health care and commitment to meeting the specialized needs of residents is well-known in the senior living marketplace. Most recently, Greenspring's continuing care neighborhood received a five-star quality rating from the Centers for Medicare and Medicaid Services (CMS) and was rated one of the "Best Nursing Homes" by U.S. News and World Report (2017). In addition, the community's health plan, Erickson Advantage®, received a Center for Medicare and Medicaid Services Medicare Advantage Health Plan rating of five-stars for Part C and five-stars for Part D (2017).
Greenspring's person-centered care philosophy is the hallmark of its service culture. This approach is about putting residents first, looking at them from a holistic perspective and recognizing them as individuals. Its focus on caregivers being partners in care, individualized service, spontaneous programs, holistic care plans and purposeful engagement provides an ideal environment so that residents can reach their highest potential.
When the multi-year project is completed, Greenspring will have a total of 176 assisted living apartment-homes, 59 memory care suites and 62 skilled nursing residences.
The general contractor for Dogwood Commons is Harvey Cleary Builders. Cypress Contracting is conducting the renovations of the existing amenity spaces in all of the buildings involved with the project. The architect for the entire project is Lantz-Boggio.
ABOUT GREENSPRING: Greenspring, one of 19 retirement communities managed by Erickson Living, opened in 1998 and is situated on a scenic 58-acre campus in Springfield, Virginia. Additional information about Greenspring can be found at www.ericksonliving.com. Media Representatives interested in further information can contact Dan Dunne, Director of External Communication, Erickson Living, at (410) 916-6338.
--
Caption for attached photo: Participating in Greenspring groundbreaking ceremony are (L-R) Peggy Paterson, Greenspring Resident Council Design Committee; Mary Sue Garner, Greenspring Resident Council President; George Rallis, Greenspring Director of Continuing Care; Chandra Kumar, Greenspring Executive Director; Jeff McKay, Fairfax County Supervisor, Lee District; Vivian Watts, Virginia House of Delegates; and Greenspring Board of Directors Jackson Bain, Betty Price, and Roy O'Connor. (Photo by Greg Dohler)