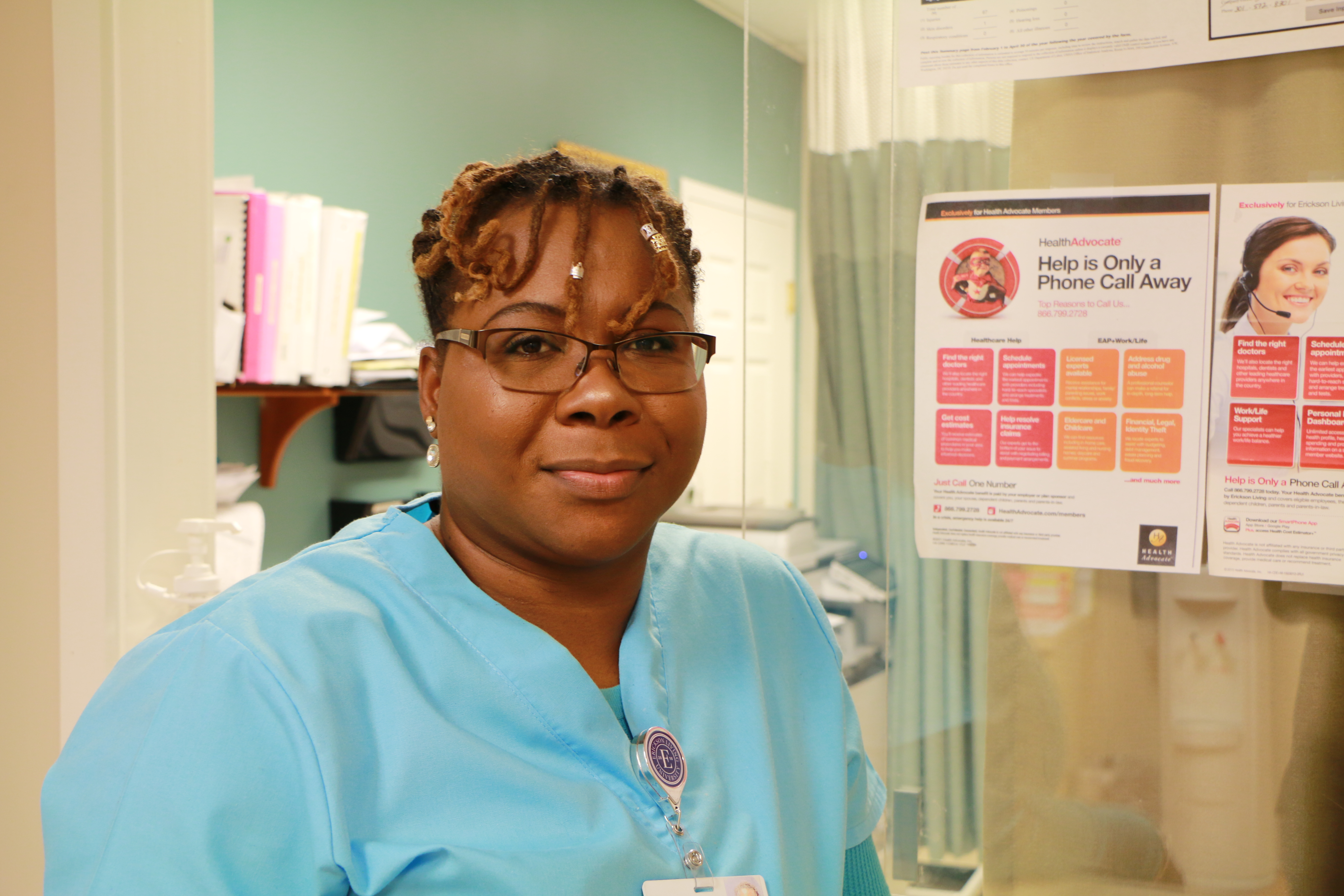 On-site Employee Health and Wellness Center Keeps Employees at their Best All Season, Making Riderwood a 'Great Place to Work'
Silver Spring, Maryland retirement community setting the standard in fostering employee well-being
With cold and flu season kicking into high gear, one local employer is prepared to face it head on.
At Riderwood, the Erickson Living developed and managed community in Silver Spring, Md., employees can visit the on-campus employee health and wellness center Monday through Saturday for everything from sick and well visits to cancer screenings and vaccinations.
"My goal is to take care of all the employees at Riderwood," says Nurse Supervisor Temitope Orimogunje, a registered nurse practitioner.
"The employees show a great appreciation for the wellness services provided onsite, such as having health assessments performed or obtaining prescriptions. Having a qualified health care professional on campus makes Riderwood a very attractive place to work" she says.
The center is not only valuable for wellness visits, but also prevention.
"Prevention, prevention, prevention is the key," says Orimogunje. "It saves costs, it saves lives.
We have been encouraging people to get the flu vaccine. Good hand washing, of course, is something we preach every day. And know your numbers—blood sugar, glucose level, cholesterol. By visiting the center for screenings or vaccinations, you'll have a good foundation for preventative care and staying on top of your health."
Orimogunje and her team also assist with the new-hire process (vaccination records, blood tests, paperwork), cancer screenings, mammograms, and regular check-ups.
Additionally, the health and wellness center hosts weekly Wellness Fridays; employees can obtain a massage or take a yoga class.
Based on her years of professional experience, Orimogunje says, "Riderwood is a great place to work. The community really care about their employees, and I would recommend it to anyone."
Sherri Queen, director of Erickson Living's total rewards program, says the wellness centers are part of Erickson Living's overall initiative to provide "a very robust health and wellness benefits package."
"The health and wellness centers are definitely a value-added benefit. It's like having your own Patient First on campus," Queen says.
Megan Hershberger, associate director of marketing and communication, says value-added benefits include wellness options, 401K matching, yearly raises, growth opportunities, Erickson University for individual growth and development, tuition reimbursement, and several partner discounts (BJ's Wholesale Club, Dell, Weight Watchers, and more).
Erickson Living developed and managed communities are committed to cultivating and advancing incentive programs, ample benefits, career advancement programs, and a greater work-life balance, "Hershberger says. "When you take care of your employees, they in turn take care of the residents. It's a promise we make—safe work environment, discounts, benefits, competitive pay—we value you."
Dr. Craig D. Thorne, Erickson Living's vice president and medical director, employee health and well-being, stresses the importance and value of focusing on employee well-being.
"Our employees are the greatest assets Erickson Living has," Thorne says, "and this year we are building on all our efforts together to help them understand and use their total rewards even more through our new HR initiative Take Charge of Your Wellbeing.
"For Erickson Living employees, well-being is much more than just physical health, it is the combination of our love for what we do every day, the quality of our relationships, the security of our finances, the vibrancy of our physical and emotional health, and the pride we take in what we contribute to in the workplace."
Queen says the company is living up to its promise. "I've been living and breathing this world for 20-plus years, but I will say this program is probably one of the best I've worked under in terms of total value, especially if you include the health and wellness centers," she says.
SIDEBAR
The Riderwood employee health and wellness center is open to Monday through Friday 8 a.m. to 4 p.m., (closed from 12 p.m. to 1 p.m.), and Saturday 9 a.m. to 2 p.m.
Picture Caption:
Riderwood Employee Health and Wellness Center Medical Assistant Meggan Madden. Photo by Julia Collins