Siena Lakes Announces Phase II Construction to Meet Demand for Vibrant Retirement Lifestyle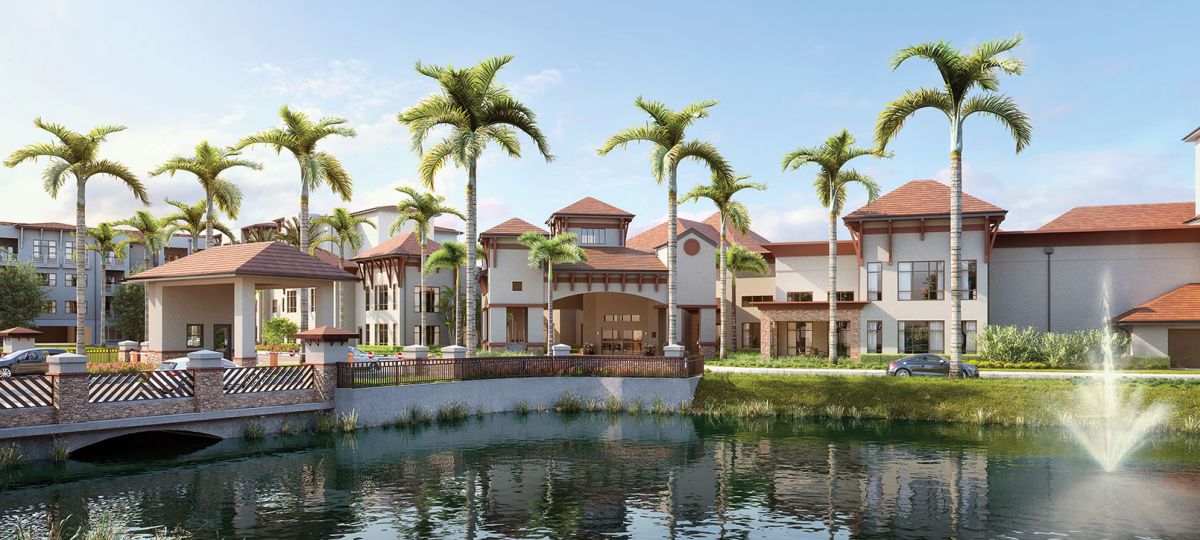 Milestone announcement shared at exclusive celebration in North Naples
NORTH NAPLES, Fla. — Feb. 10, 2020 — With more than 80% of the initial 175 apartment homes reserved in Phase I, Siena Lakes has announced plans for Phase II construction, which will include two new independent living buildings. The exciting news was shared at an exclusive celebration on Feb. 4 in which a building construction beam, signed last month by employees and future residents, was set into place where the campus clubhouse is under construction.
Joining in the celebration were Siena Lakes' reservists and priority list members who had the opportunity to meet with Alan Butler, Erickson Living's chief executive officer; Debra B. Doyle, chief operating officer; Tom Neubauer, executive vice president of sales, marketing and communications; and numerous  other distinguished guests.
"We are thrilled to be able to help meet the growing demand for high-quality and distinct senior living in southwest Florida," said Butler. "The vibrant lifestyle and amenities that will be available at Siena Lakes reflect the commitment our company has in meeting the retirement living expectations of today's and tomorrow's seniors."
 
Construction is scheduled to begin on the two new independent buildings in late summer 2020 and will feature 180 one- and two-bedroom apartment homes with a variety of designs, including three new floor plans. All residences will have a screened-in lanai and can be customized to match residents' personal preferences.
"Every apartment home at Siena Lakes will have convenient access to extraordinary amenities, including a swimming pool, fitness center, salon and day spa, on-site medical center and several unique restaurants," said Fred Moschetta, Siena Lakes' director of sales. "We're proud to be able offer living options and services that afford opportunities to pursue new interests, meet new people and enjoy a carefree lifestyle at great value."
Expecting to welcome its first residents in 2021, the community takes its name from the Tuscan town of Siena, Italy, which is known for its beauty, charm and culture. Residents will enjoy Tuscan-influenced contemporary architecture along with walking paths, gardens and outdoor social spaces with views of the community's lakes and water features.
Siena Lakes is situated on a scenic 29-acre campus just minutes from downtown Naples and many of the area's most beloved beaches.
Tampa Bay-based Bessolo Design Group is the architect for the project, and Kaufman Lynn Construction, the general contractor for the sales center, is serving as the construction consultant.
Siena Lakes will also create employment opportunities in management, sales, health care, culinary arts and other hospitality fields.
The Siena Lakes sales center is located on property at 2521 Orange Blossom Drive, Naples, Florida, 34109. For more information about Siena Lakes, including future open houses or special events, please call (239) 325-6800, or visit Siena Lakes.
Photo:  Hundreds gathered at Siena Lakes as a part of an exclusive beam signing and Phase II project announcement celebration.  From left to right;  Tom Neubauer, Erickson Living, executive vice president of sales, marketing and communications; Alan Butler, chief executive officer; Kathy and Don Grandi, Siena Lakes reservists; Debra B. Doyle, chief operating officer and Fred Moschetta, Siena Lakes' director of sales.
About Siena Lakes: Siena Lakes is a distinctive continuing care retirement community coming to North Naples, Florida. The private 29-acre campus will feature a variety of spacious apartment homes, resort-style amenities, 24-hour security, on-site medical center and more — all in one beautiful location.
Back