Girl Scouts regroup at Linden Ponds
Created date
October 13th, 2017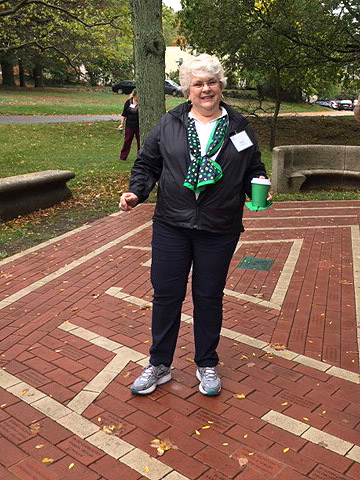 "Once a Girl Scout, always a Girl Scout!" That's Sara SaintOurs' motto. She first joined the Girl Scouts back in 1950 in Washington State, and the organization has been an important part of her life ever since.
Her daughters were also Girl Scouts, and Sara was a troop leader in Norwell, Mass. She went on to become a school organizer for all the troops in Norwell and eventually became the neighborhood chairman (a position now called "service team chairman").
She was later asked to serve on the board of directors for the Blue Hill Girl Scouts Council for Boston and surrounding towns (Blue Hill has since merged with the Eastern Massachusetts Girl Scouts Council).
"It's a wonderful program for girls to develop leadership skills," Sara says of the Girl Scouts. "It was a big part of my life and taught me a lot of things that have stuck with me, like how to lead activities."
Now retired and living at Linden Ponds, the Erickson Living community in Hingham, Mass., Sara has connected with about a dozen neighbors and former Girl Scouts or troop leaders.
Scouts for life
Last fall, Community Services Manager Molly Lynch St. John organized a get-together for all the residents who were previously involved with the Scouts and brought one of the Hingham Girl Scout troops to serve refreshments.
When the Linden Ponds residents realized there were so many other former Girl Scouts living at the community, they decided to form an alumnae troop. Sara leads the troop, which currently has about 12 members.
"My idea for the alumnae troop is to not only do things that are fun for ourselves but also to promote scouting in the town," Sara says. "[The Girls Scouts] are in the process of rebranding themselves and showing how scouting has helped women over time develop the confidence and skills to become leaders in their professions. Most of the women in Congress were Scouts when they were younger, and many leaders of corporations were also Scouts."
Recalling and creating fond memories
The Linden Ponds alumnae troop recently attended the end-of-school-year awards for the Hingham Girl Scout troops. The girls received their badges, and there was a birthday cake to celebrate the 100th anniversary of the Girl Scouts being in Hingham.
Over the summer, the ladies from Linden Ponds took a trip to Camp Favorite, a Girl Scout camp in Brewster, which is the camp Sara's daughters attended when they were children.
"We saw the facilities and met girls at the waterfront and up in their lodge area, and learned about what they do," Sara says. "That was fun for us to see young girls active on the campground."
Sara says visiting the camp brought back fond memories of her own days as a Girl Scout. She attended camp every summer for six years in Washington. One of her most vivid memories is the week she and her troop spent climbing Mount Anderson.
"That took a lot of skill, and I was carrying a 50-pound backpack. You learn skills, and you learn survival," Sara says. "I do believe it carries forward and makes one less fearful to accomplish things later in life—that is part of what scouting does—to challenge the girls to accomplish things."
The Linden Ponds ladies have also supported the Scout House in Hingham. The local troops held a fundraiser by selling bricks that will be used to build a new pathway for the house. Sara says her group bought a brick with the inscription "Forever Scouts, Linden Ponds Alumnae Troop."
"Some of the Girl Scouts are going to welcome us to the house later in the fall, and we will probably cook s'mores, either outside by the fire or indoors at the big fireplace," Sara says.
As for future activities, Sara says she hopes to plan some joint events with the alumnae troop at Linden Ponds' sister community, Brooksby Village, in Peabody. This fall, they plan to take a nature tour of Linden Ponds' picturesque grounds. A resident who is particularly knowledgeable about horticulture will guide the tour and teach the women about the different plants.